How to Plan your Thailand Trip Visa Free: A Comprehensive Guide
Wondering how you can plan your Thailand trip from India visa free? Well guess what? Thailand government recently have waived the Thailand Visa restriction for Indian passport holders. Now Indian citizens can travel to Thailand Visa free without applying for Thailand visa as a tourist and stay for up to 30 days under the Thailand Visa on Arrival scheme.
Thailand is one of the most popular tourist Destination among the Indian traveller for its beautiful beaches & Islands, tropical weather, scenic landscapes, and amazing night life and variety of delicious cuisines of Southeast Asia and that to in the pocket friendly budget. In this blog we'll help you to plan you Thailand trip visa free, and what you need to know before you go.
1.Choose the right season.
Thailand has three main seasons: hot, rainy and cool. The hot season runs from March to June, the rainy season from July to October and the cool season from November to February. The best time to visit Thailand depends on your preferences and activities. Generally, the cool season is the most pleasant and popular, but also the most expensive and crowded. The rainy season is cheaper and less busy, but you may have to deal with unpredictable weather and some attractions may be closed. The hot season is good for enjoying the beaches and islands, but be prepared for high temperatures and humidity.
2. Apply for a Thailand visa.
According to the Thai Ministry of Foreign Affairs, Indian passport holders can enter Thailand Visa free starting from November 2023. There is no visa for Thailand required and you can stay maximum up to 30 days visa free, if the you want to stay for more than 30 days you have to apply for Thailand Visa for Indians. Thai Ministry have also lifted up some of the Visa restriction and requirements to increase the tourism.
3. Book your flights and accommodation.
The cheapest way to travel from India to Thailand is by air, as there are many direct and connecting flights available from major Indian cities. You can compare prices and timings on various online platforms and book your tickets well in advance to get the best deals.  India to Thailand flight cost Approx. INR 25,000 to 30,000. You can also look for package deals that include flights and accommodation. When it comes to accommodation, Thailand offers a wide range of options, from budget hostels and guesthouses to luxury resorts and villas. You can search and book online or use apps like Airbnb or Booking.com to find your ideal place.
4. Plan your itinerary.
Thailand is a large and diverse country, with many regions and attractions to explore. You can choose to focus on one area or travel around different places depending on your interests and budget. Some of the most popular destinations in Thailand are:
Bangkok
The capital city of Thailand is a vibrant metropolis that offers a mix of modern and traditional attractions. You can visit the Grand Palace and Wat Pho, where you can see the reclining Buddha statue; shop at the Chatuchak weekend market or the floating markets; enjoy the nightlife at Khao San Road or Sukhumvit; and sample the famous street food or fine dining options.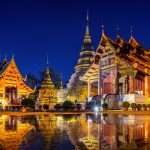 Chiang Mai
The largest city in northern Thailand is known for its cultural and historical heritage, as well as its proximity to nature. You can explore the old city and its temples, such as Wat Phra Singh and Wat Chedi Luang; learn about the local crafts and culture at the Chiang Mai Night Bazaar or the Art in Paradise museum; take a day trip to Doi Suthep mountain or Doi Inthanon national park; and interact with elephants at ethical sanctuaries or camps.
Phuket
The largest island in Thailand is a popular beach destination that offers a variety of activities and attractions. You can relax on the white sand beaches or enjoy water sports such as snorkeling, diving, kayaking, or surfing; visit the Big Buddha statue or the Phuket Old Town; watch a cultural show at Phuket FantaSea or Siam Niramit; and party at Patong Beach or Bangla Road.
Krabi
The province in southern Thailand is famous for its stunning scenery and natural wonders. You can admire the limestone cliffs and turquoise waters at Railay Beach or Ao Nang Beach; take a boat tour to Phi Phi Islands or Hong Islands; hike to the Tiger Cave Temple or the Emerald Pool; and soak in the hot springs or the blue lagoon.
5. Pack smartly.
Packing for your Thailand trip depends on the season, destination and activities you plan to do. However, some general tips are:
Pack light clothes that are comfortable and breathable in hot and humid weather.
Pack sunscreen, sunglasses, hat and insect repellent to protect yourself from the sun and bugs.
Pack a power adapter that works with Thai sockets (type A, B or C).
Pack some cash in Thai baht as well as your credit or debit cards.
Pack copies of your passport, visa and travel insurance documents.
6. Enjoy your trip.
Thailand is a friendly and welcoming country that offers a lot of fun and excitement for travellers. You can enjoy the delicious Thai cuisine, learn about the rich Thai culture and history, interact with the locals and other travellers, and make unforgettable memories.
Recent Blogs
What is the Best Time to Visit Turkey?
How to Plan Your First International Trip from India in 2023?
6 Must Vist Visa-Free Countries for Indians
US Visa Appointment to US Visa Status: Everything You Need to Know
Australia Trip Cost from India: A Comprehensive Guide to Budget Planning
US Visa Scheduling: A Step-by-Step Guide to Apply US Visa in India (2023)
How to Track Your France Visa Application in India